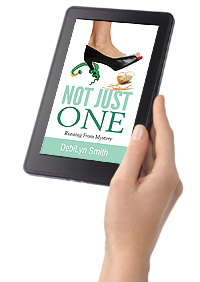 With the dramatic increase in the number of people using portable computers—whether they be iPhones, iPads, Amazon Kindles, Barnes & Noble Nooks, Android tablets, net books, "clunky" laptops, or other devices which read ePub, Mobi, and other eBook formats, there has been a press on publishers to produce their publications in a format that is easily readable by these varied technologies.
The most accepted method for producing consistent formatting on mobile readers is the same as the best method for producing consistent web formatting—by hand-coding the material at a text-only level, just like HTML. Automated software applications just don't provide the same level of quality as work done by a careful, meticulous human.
eBook Publication & Conversion Services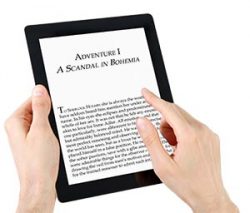 I offer eBook formatting and conversion services for a wide variety of formats. I endeavor to format all publications in such a way that they will be not only compatible with, but look right on, the most platforms possible. Generally, this involves creating the file in HTML format first, which is my specialty—I've been hand-coding HTML since 1994.
It is important to be aware that portable reader-compatible publications may not look exactly like your original book or website—especially in the case of graphic-heavy originals. The reason for this is that early generation (and we're still in the early generations!) readers have just as much trouble with graphics as the first web browsers—color support is limited to a few shades of gray, formatting is extremely limited, etc. However, as with the first web browsers, there is a difference between "thrown together" and "well done," and I aim to get as close as possible!
It is also critical to keep the limitations of the various readers in mind when converting a document to digital reader format. I check the books I format on several platforms, including Kindle (black-and-white versions), Kindle Fire and Kindle Tablet, Nook Color, Nook Touch, iPads, and phone-based applications. It is important for anyone doing development to do this, and especially important for you, as a publisher, to check your developer's work.
Check out some of the books I've formatted…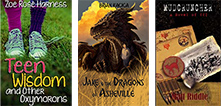 Conversion Steps
These are some of the steps I take in the conversion process. They are all included at no additional charge.
Convert all apostrophes, single quotes, and double quotes to the appropriate HTML codes for curly quotes (" " ' '), taking care to convert opening apostrophes as apostrophes and not as left single quotes (e.g. 'Tis should appear as 

'Tis

 and not as 

'Tis

)
Convert all em-dashes (—) and en-dashes (–) to the correct symbol codes. Replace any double hyphens with em- or en-dashes. I'll take care of this conversion for you automatically, unless you request otherwise.
Remove any extraneous line-breaking hyphens from the original formatting. Because a Kindle book can be viewed at several different font sizes, forced line-breaking hyphens from the original document often appear incorrectly in the middle of a line, and should be eliminated.
Convert ellipses (…) to the Chicago Manual of Style's standard of spaced-out dots (. . .). This helps to truly convey the pause that they intend, as opposed to "smushing" them together in the hurried space of a single character. Of course, if you prefer otherwise, I'll use the single character glyph of three dots close together, instead.
Remove any paragraph-starting tab characters or multiple spaces, replacing with appropriate coded formatting for indents.
Format chapter headings appropriately—this varies from book to book.
Make new chapters start on new pages (screens).
Reformat images for the Kindle, including any original color for Kindle-compatible devices which use color. The Kindle presumptuously automatically resizes images between certain dimensions, so in order to ensure that your images are not automatically resized, they must be set to a certain size.
Convert any tables in the original to Kindle-friendly formats.
Create a functional table of contents with links to the appropriate chapters, figures, etc.
Add up-caps (drop caps don't work on the older and black-and-white Kindles) to the beginning of chapters (if desired by author) with either formatted text or an image. Alternatively or additionally, set the first few words of each chapter in caps.
Add graphical flourishes between sections (if desired by author).
Add "front matter"—separate title page, copyright page, etc.
Add links (front of book, back of book, or both) to the author's website and to other published books in the Kindle store. Optional—let me know if you'd like to do this, or just type them right into the manuscript you send me.
Make any in-text references to websites actual links. (Let me know about them if they're not obvious, or if you don't want them linked.)
eBook Conversion Service Rates
I offer flat rates for conversion, and don't nickel-and-dime authors to death with charges for every little thing that add up fast. All of the services listed above are included at no additional charge in every book conversion that requires them. Because every book is different, there is no easy way to create a one-size-fits all pricing chart. So I've created the following chart for typical novels originally written in and provided in Microsoft Word format, containing 10 or fewer illustrations. If your book is not a novel, or was created in another application, please contact me for an individualized price quote.
Rates for conversion of Word 2010 and later novel-type documents
# of words*
Rate, in USD
What you get
Kindle File
ePub File
Formatted Word File
up to 15,000
$75
✔
✔
Available
up to 50,000
$150
✔
✔
Available
up to 100,000
$200
✔
✔
Available
Over 100,000
contact me
✔
✔
Available
* Number of words is based on Word's built-in word-count feature
Rates for conversion of other documents
Other documents, including children's books which may have only a few dozen words, must be quoted on an individual basis. Please contact me for an individualized price quote.